BROWSER GAMES
Developed by Ubisoft for Internet browsers Anno Online is a free-to-play strategy simulation game focused on economy management and city building. The game upholds the traditional in-depth economics that are the hallmarks of Anno franchise while introducing more extensive and in-depth city management tools to an extent never before seen in these type of browser game.
For the first time ever, the Anno franchise features many multiplayer possibilities, allowing you to visit and help other player's cities or join guilds and establish trade routes with your friends. Players are going to have the chance to be part of a commercial empire and work together to complete joint goals and server-wide quests.
The most important thing in Anno Online is your main island, because it's where you'll build and improve your flourishing empire. To do that you have to satisfy the demands of your population, constructing buildings, managing the resources or conquering more islands to gain access to new trading routes, unlock new buildings and face n...
Anno Online screenshot: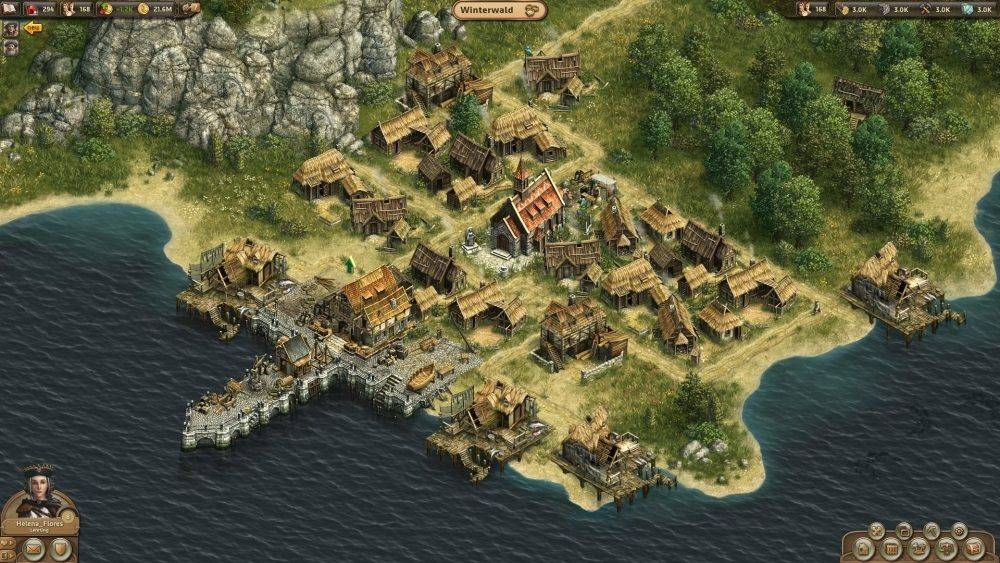 GoKickOff
Game Type: F2P Browser Football Management MMO
Platforms: Internet Browser
Developed by: GokickOff
In GoKickOff players are able to manage a soccer/ football team in this free to play browser-based football manager MMO, where you will start off with your own team of low-level players and have to work hard, making strategic choices and building up your squad to climb the ranks of the league tables. Playing against thousands of other players you will be able to make your way into the higher leagues, compete in a variety of different cup tournaments and build up your squad and club in this challenging, social and competitive MMO game.
Building up your squad and bringing in new players is vital to being successful in the game, new players can come from a number of different places, most commonly the player transfer market, but also by training up players in your youth academy and promoting them to the first team. Each player has their own profile and stats to show their strengths and their weaknesses, a good club mana...
GoKickOff screenshot: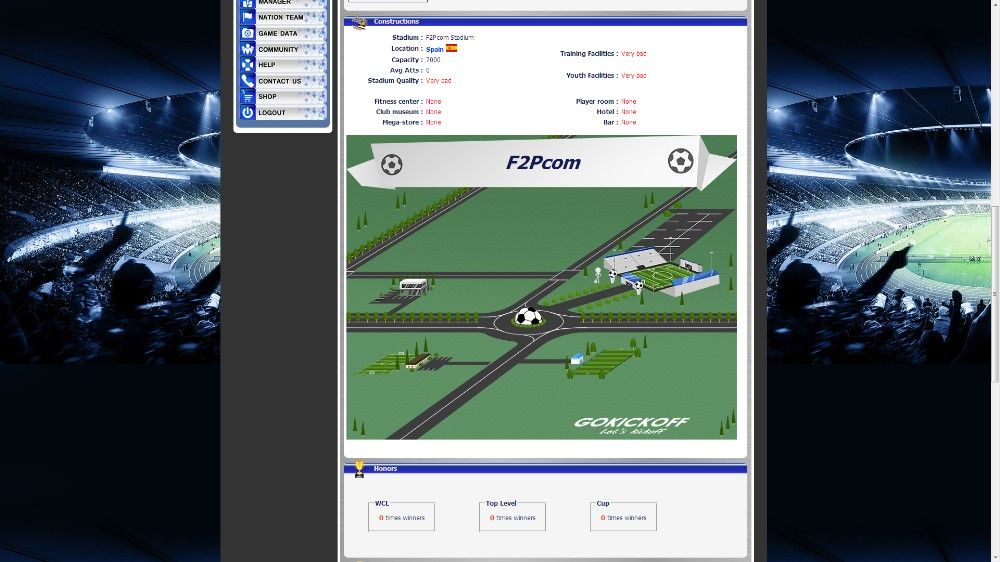 Herokon Online
Game Type: Free to Play MMO Roleplaying Game
Platforms: Web Browsers
Developed By: Silver Style
Based on the classic tabletop RPG The Dark Eye comes a new browser-based free to play MMO RPG: Herokon Online. Set in a fantasy realm known as Aventuria, heroes arise blessed by magic and divine intervention and head out on an epic journeys to seek out their fortune and become legends like the stories of old. The game encourages group based gameplay with hundreds of quests available and dozens of dangerous dungeons to delve into for treasure and adventure!
There are three different fantasy races that players can choose from, though there are more available in the game that fill out the vast world of Aventuria that players will meet in their journey. The playable classes are the Middenrealmian Humans, widespread race made up of dozens of empires, faiths and cultures they are a diverse and well spread people. The elves of the forests are secluded and secretive in their ways, they are equally well spread settling in t...
Herokon Online screenshot: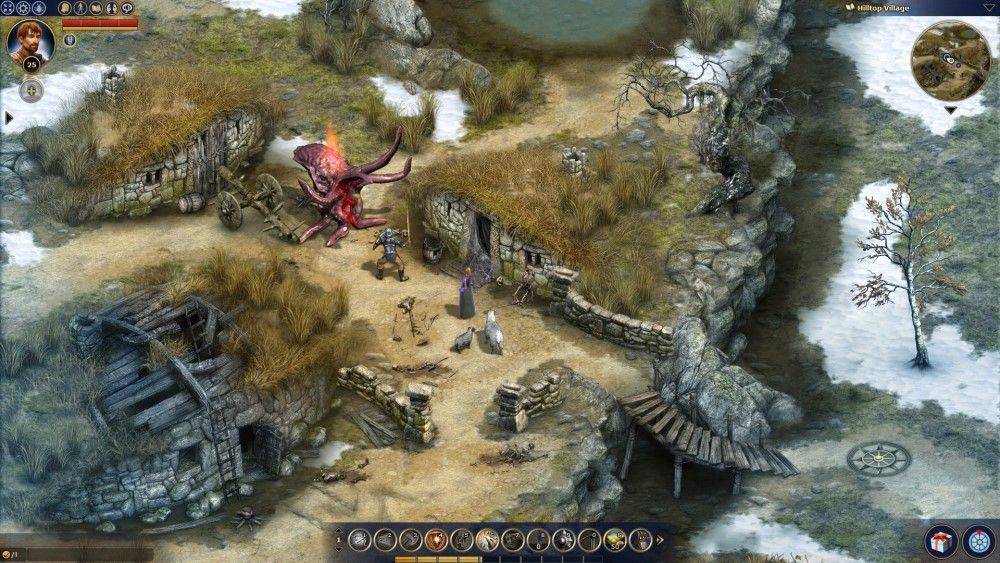 Berserk: The Cataclysm
Genre Type: F2P Card Collecting MMO
Platform Accessibility: iOS, Android, Web Browsers
Development By: Bytex
This free to play card collecting MMO allows players to build up their own mini decks and face off against other players and challenging AI opponents through various game modes and PVE campaigns. With five different Elemental Factions to choose from with over 800 unique collectable cards the game offers a wide variety of tactics and strategy to players where they can try and test their mini Squad decks and then compete in Tournaments and for PVP ranking against players from across the world.
The core of the game revolves around the basic components that make up a card unit, its attack value, its health and the number of turns it takes before the card will automatically enter battle. Whilst the strategy comes in designing a deck, or more accurately a Squad made up of seven cards, once a battle begins the combat is completely automated and relies on a combination of good planning and luck. The Sq...
Berserk The Cataclysm screenshot: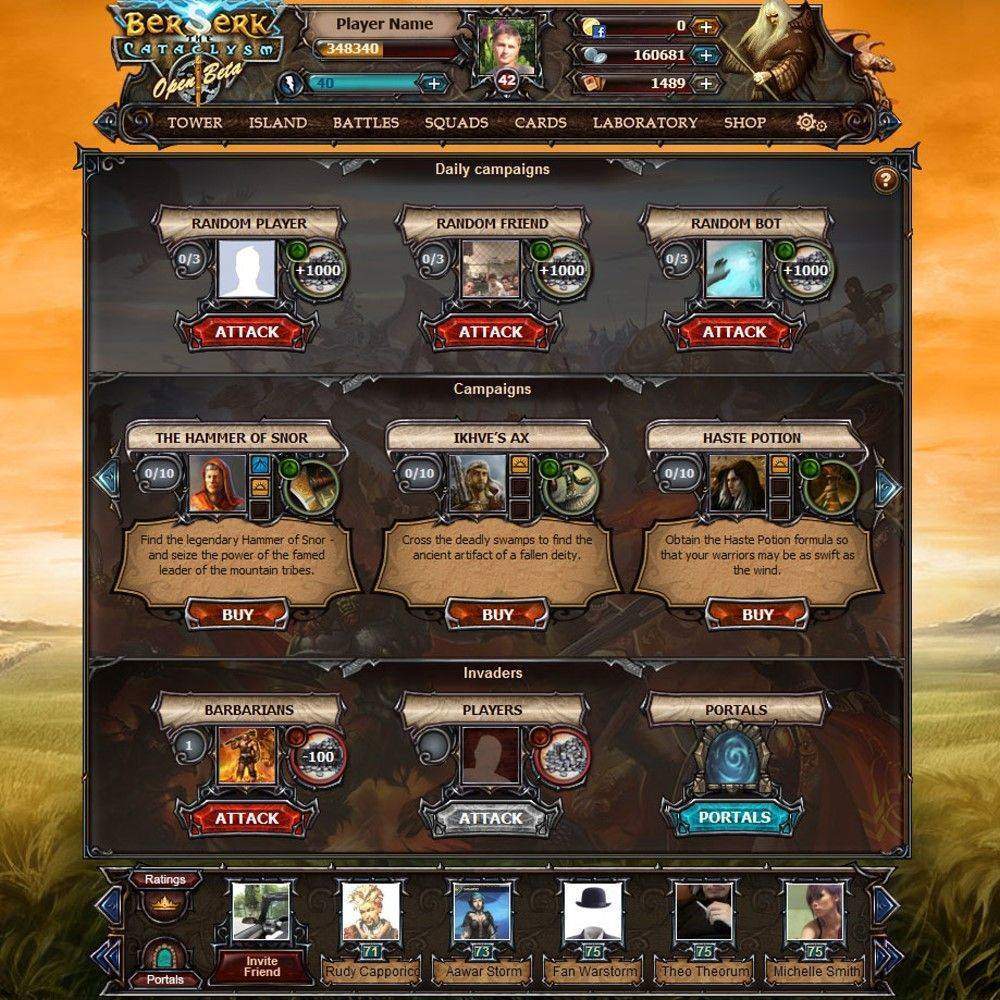 AdventureQuest is a fully Flash-animated RPG that you can play when you are on your lunchbreak, when the big game servers go down, or even for hours every day! You fight against hordes of monsters and enemies so that you can grow stronger and obtain ancient weapons of unimaginable power. You need nothing more than your web browser and the latest Macromedia Flash plugin to play.
Explore an entire world, filled with over 700 monsters, hundreds of items, magical powers to gain, and many classes to master! Become a Fighter, Wizard, Ninja, Vampire Slayer, Rogue, Knight, Mage, Paladin, Dragonslayer, and more. ...
AdventureQuest screenshot: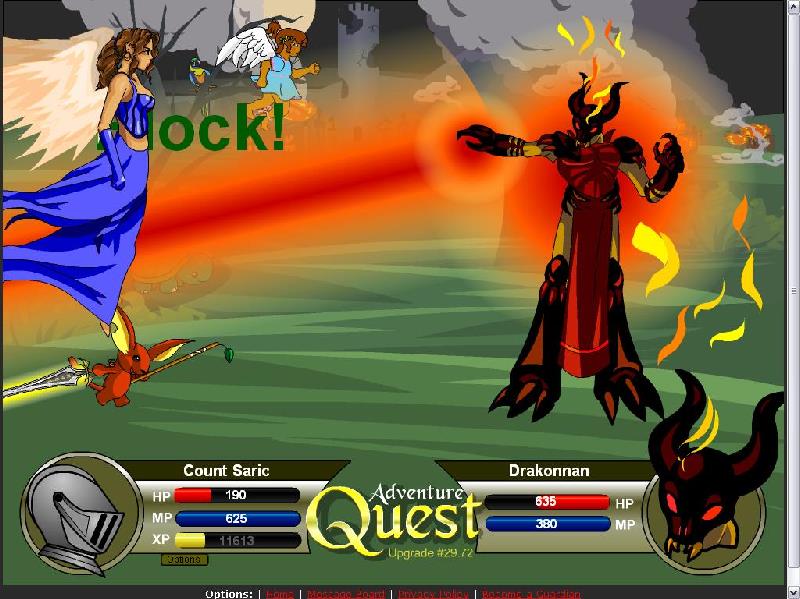 AQWorlds is a 100% browser based game with real time combat, original art, and an entire world to explore. Battle monsters and obtain weapons, armor, pets and items.
All you need is Flash and your web browser to participate in the fun with players from all over the world with the ability to meet in ourºs.
At long last we have accomplished the seemingly impossible goal of adventuring and battling alongside each other for real. The best part is, in an upcoming release, you will be able to import data from your existing AQ/DF/MQ characters and accounts, making all of your old hard work and effort really mean something. Like our other games, AdventureQuest Worlds was built from scratch. We hope you are excited about this new MMO and will become involved and help us build it, whether you are a new player, joined us for our releases of DragonFable and MechQuest or have been with us since the very beginning!...
AdventureQuest Worlds screenshot: