BROWSER GAMES
Developed by Crafty Studios Game for internet browsers, World of Ants is a free to play strategy browser game in which players assume the control of an entire ant colony. It's completely playable through a browser and on Facebook.
There are many tasks to accomplish in order to bring prosperity to the anthill. Through tasks and quests, players will get rewards. But players are not tied to their native ant hill. Players can conquer other colonies and expand their empire. The ant hill is made up of different chambers and mines which players can build and develop over time. These chambers serve several purposes like storing the resources players gather from mines.
World of Ants has a premium currency system. Sugar cubes are the premium currency. with these cubes, players can shorten building, research and production periods as well as increase the production of resources in the colonies.
...
World of Ants screenshot: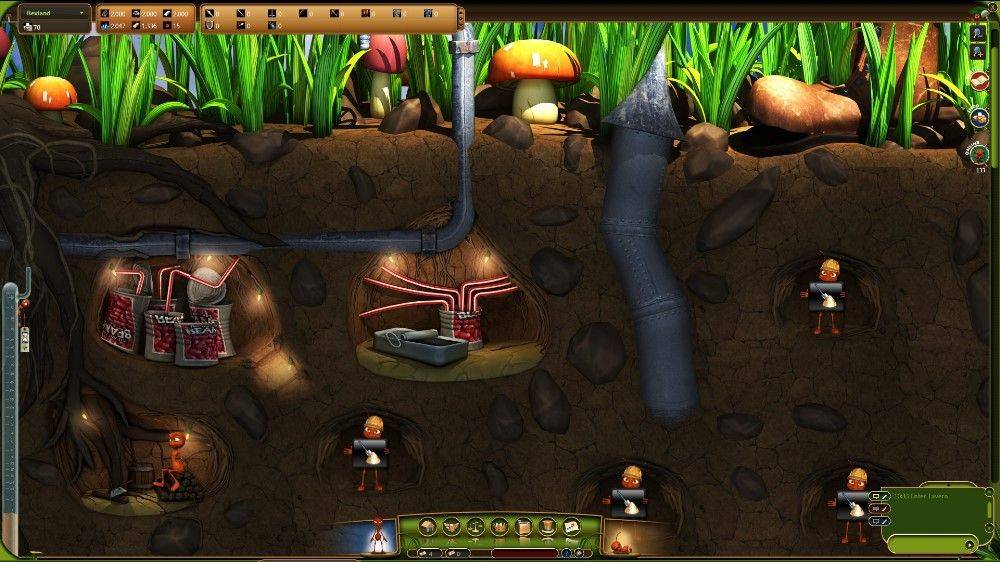 Evony is set in medieval times where a player must to establish a city and begin developing various technology and building supporting structures to generate armies and resources for the purpose of attacking other players and in game opponents. Evony is set in a persistent world–when a player logs out, the game continues.
Evony features player versus player (PvP) gameplay, making it possible to attack another player's cities. Evony offers many items through its Item Mall, most of them in some way accelerating the player's progression through the game.
Evony has two different monetary systems. The in-game monetary system revolves around gold. Gold can be obtained by completing quests and by taxing the player's population. It is also possible to sell resources for gold on the marketplace to other players. In lieu of this, a player can use real money to buy game cents with which to purchase items and resources from the in-game shop.
A player begins by acting as mayor of a city. The player gives instructions on production and constru...
Evony screenshot: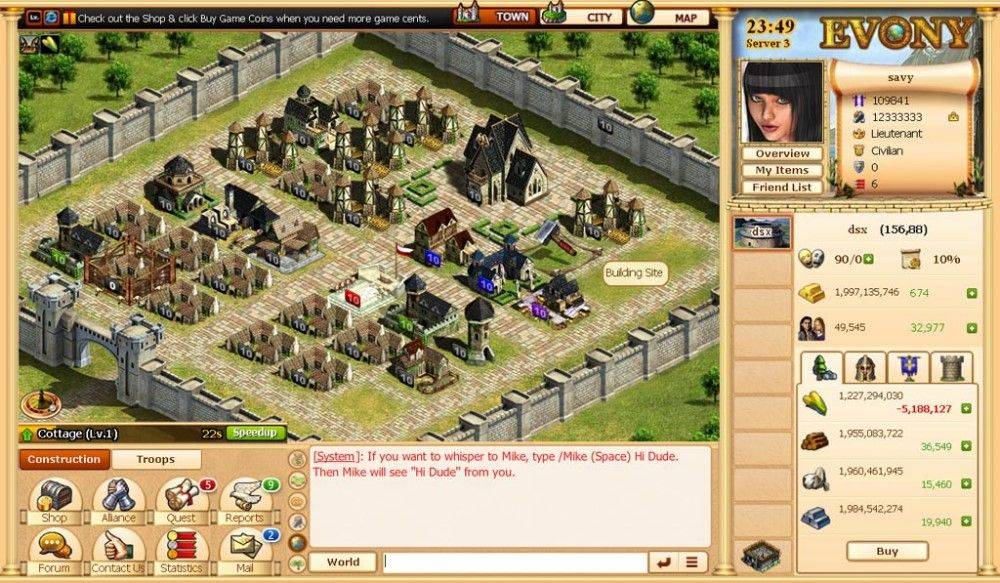 Goblin Keeper
Platforms: Internet Browser
Genre: Free to play Strategy MMO
Developers: Gameforge
Take on the world in this free to play browser-based game as a nefarious GoblinKeeper, the overlord of your own dungeon who controls an army of ferocious minions with the intent of total control and subjugation of your enemies. Deep from within your mountain dungeon and you will raise a terrifying army and unleashed it on the elves of the Overworld and destroy rival goblin keepers and claim their territory as your own.
In Goblin Keeper you must build and manage your dungeon (or dungeons if you have been successful enough to conquer others), responsible for all aspects from producing resources and materials for construction, building rooms to unlock various benefits and features, to training up your own monstrous army made of orcs, goblins, undead and a whole host of terrifying creatures. You can lay out your dungeon however you see fit, placing individual rooms and tower defences, to maximise efficiency. Create a library and allow...
Goblin Keeper screenshot: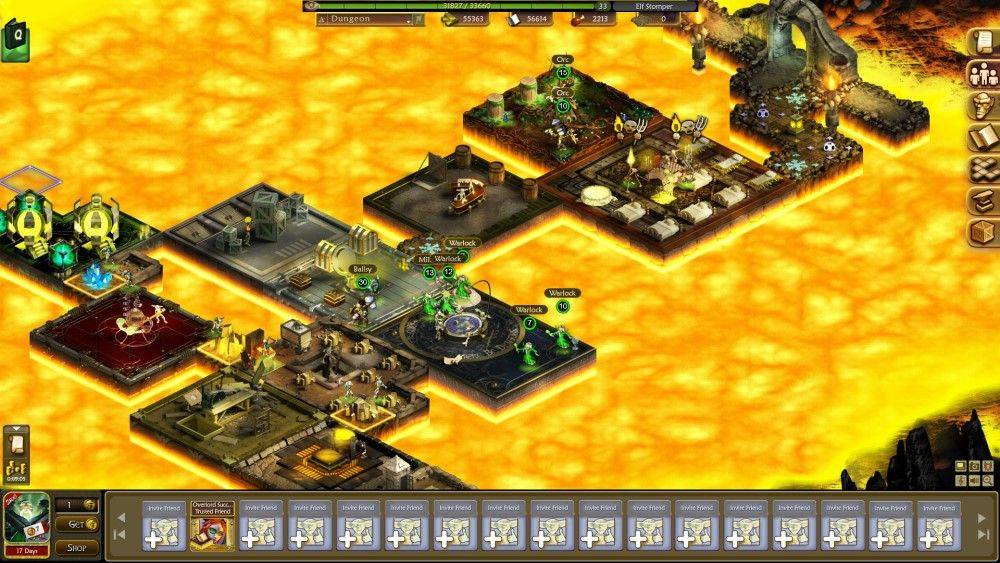 Nemexia is a free web-based strategy game, developed by XS Software for internet browsers. Nemexia gives you the opportunity to play with more than 15,000 people in one Universe. You can fight with other players, make or join strong alliances and achieve the main Goal in the game. You have the possibility to play in many different ways according to your style.
Ready to play directly in your browser, Battles are the goal of this game. After a battle, you receive a report what happened, and, because of the randomization of ship order in combat, you can never be 100% sure what is going to happen. The report head shows date, time, coordinates of the attacker, coordinates of the defender, Attack and defence bonuses of both players.
There are three kinds of points in Nemexia – Points, Resource points (resource points are earned by spending resources) and Battle points (earned in battles).
There are three races in Nemexia – Confederation (the human race), Terteths (smartest robots) and Noxis (aliens). Each of them owns different bui...
Nemexia screenshot: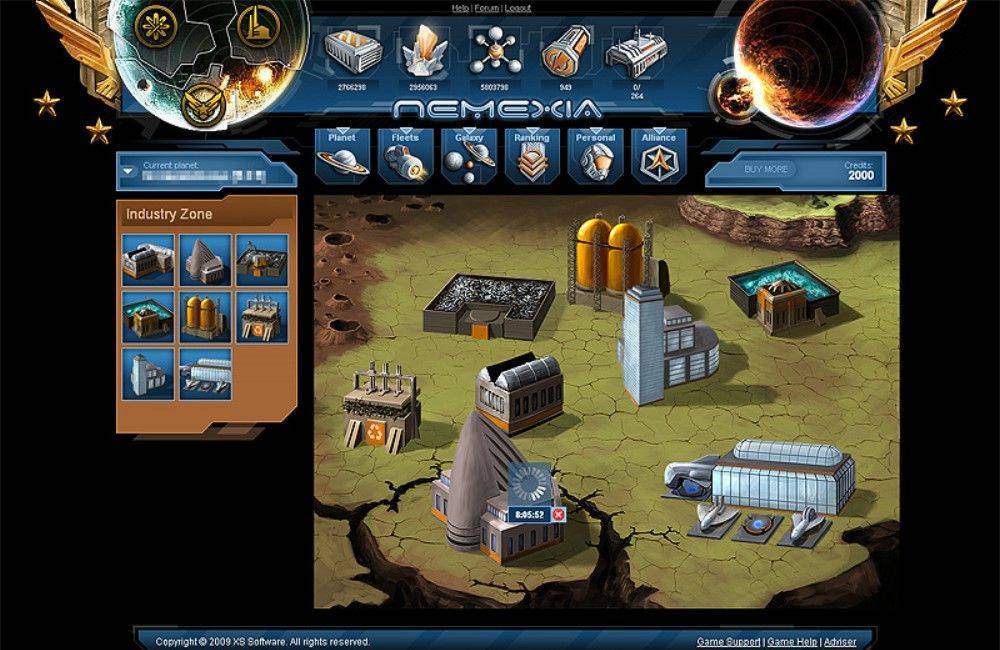 Developed by Bytro Labs, Topia Island is a free-to-play browser-based MMO game combining social elements such as friends, gifting and common missions with aspects of real-time strategy and city management games. Players will explore a tropical island on which they will collect resources in order to build houses and set up their own community and economy. They will be guided by a character-driven story-telling throughout their journey.
The game's story revolves around an idyllic island named Topia where a peaceful group of people is trying to build a society far away from the evil Empire. Erecting houses and schools as well as establishing an economy with farming and manufacturing are their first steps towards independence. However, the shadow of the Empire is long and soon the people of Topia may have to rise against oppression.
Topia Island features 2 currencies: coins functioning as in-game currency used for paying rents, goods or taxes as well as Topies, which can be purchased with real money, functioning as premium currency ...
Topia Island screenshot: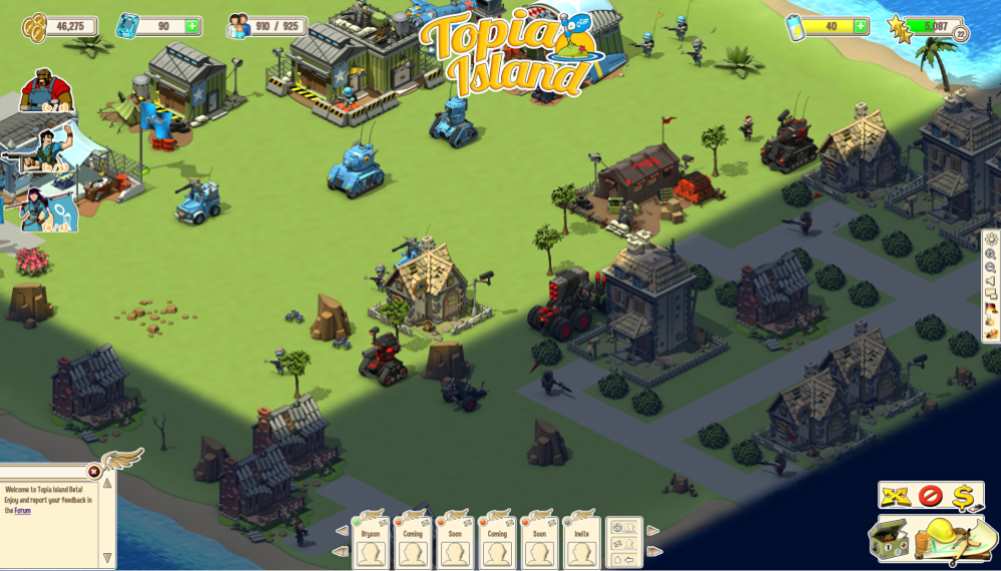 Developed for web browser and iOS/Android devices by Boostr, Fantasy Rivals is a free-to-play collectible card MMO game. Players have to prepare themselves to discover hundreds of Heroes, complete epic quests, and meet players from all over the world while getting powerful Heroes, leveling them up and facing their opponents in intense strategic battles to move up in the rankings and finally reach the prestigious Diamond League. The very best players might even join the 200 Masters of the game.
Players begin the game with twelve starting heroes and can get new ones either by playing or in the shop. Using the Gems earned in game, players can level up their Heroes to make them even stronger. In each match they can pick eight Heroes from their collections to fight their opponents.
The game is set in the world of Rhynn, a world in an original universe rich with the magic of the ancient Chimeras. This beautiful world is home of six rivals factions: Alliance, Empire, Abyss, Draken, Shadow and Spectre. These factions have been fighting...
Fantasy Rivals screenshot: