BROWSER GAMES
Developed by Playzo and set in the Second World War, Wargame 1942 is a military strategy browser game which gives players the opportunity to build up their base, research and develop different military vehicles and aircrafts in order to build an army to fight against the enemies. Use your diplomatic skills to influence the world politics and to write yourself into the history books and use your army to fight against thousands of different players.
Wargame 1942 features a deep and well rounded PvP system which strongly encourage and support relationships and war between players and offer some pretty unique features different from other games of this genre. For example, to spice things up and force you to think carefully before launching an attack, the game let you take your enemy's building or lose your own instead of just stealing resources. Moreover, you can use a useful a spy system to send Agents and Stork to spy upon your target empire and inform you about its units and resources.
The game's setting takes place during the S...
Wargame1942 screenshot: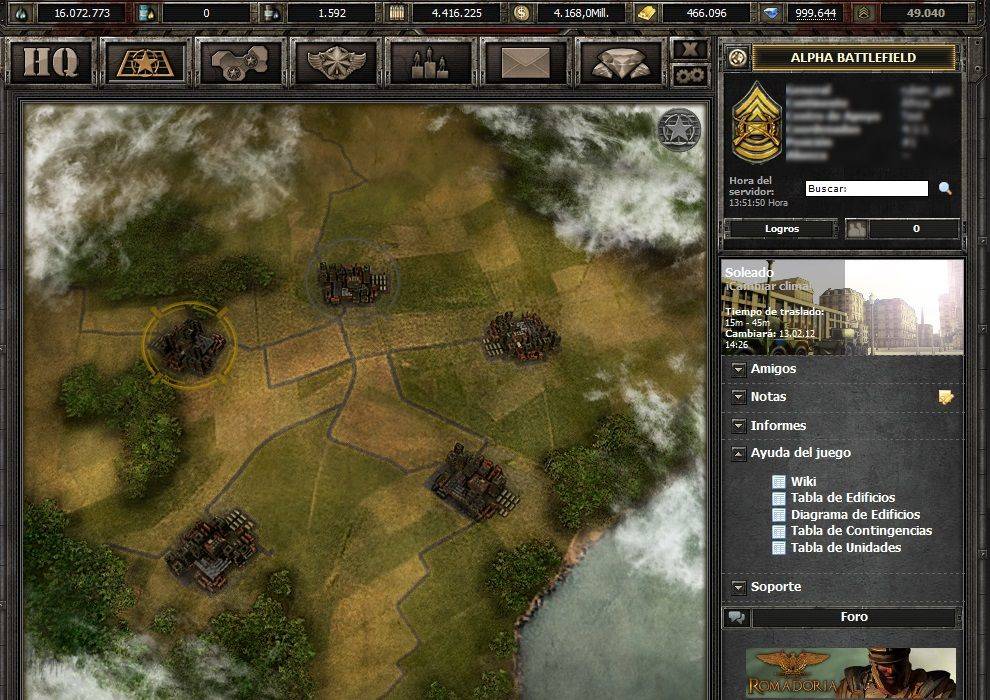 Developed by 7 ROAD, Wartune is a free-to-play fantasy MMO mixing up classic RPG elements with strategy features. You're able enjoy its unique action-packed gameplay in any major web browser. The turn-based combat of the game offers players the possibility to directly be involved in the fight due to the unique Quick Time Event (QTE) combat system.
The world of Wartune severely suffered from a war waged by a mighty fire demon and his underworld legions that has almost lasted a thousand years turning everything into desolate deserts and marshes. After choosing their hero from the three classes available in the game, warrior, mage or archer, players are able to dive into this desperate world of chaos in order to fight for order with unique and powerful abilities and to protect and manage the city of their own. When exploring the huge game world, they will encounter various NPCs that will supply quests to complete. There four types of quest: main, optional, daily, event. During their journey, players will also find all sorts of monst...
Wartune screenshot: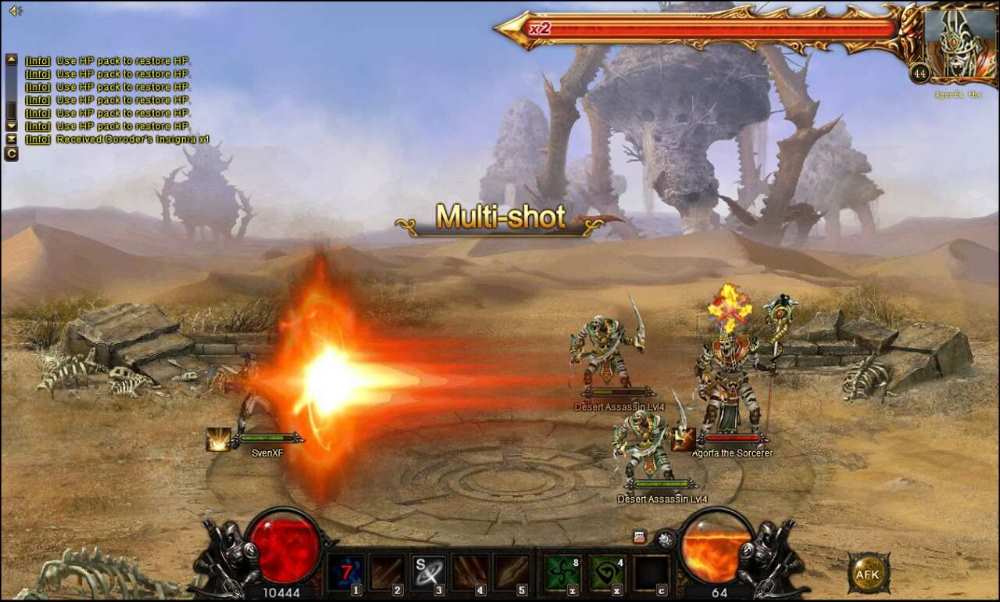 Desert Operations is a free to play military Strategy Browser-based Game where you fight as the Ruler of a small country against thousand other players or make allies with them through clever diplomacy, developed by Playzo GmbH for Internet web browsers. Raise your influence on the world politics by creating alliances or making war declarations. Found alliances, so you and your allies can fight against your enemies. Trade with your allies and spy on your enemies. Ready to play in your browser directly, you have many possibilities to create your country and defend yourself against hostile takeover.
You can be a premium user. In the Premium menu you can buy Diamonds and for example exchange them for better weather. There you will choose first from the payment options and then the Group. The entry of the Diamonds is immediately in your account after the payment is received. You will enjoy more features like: Productions will conclude immediately (Diamond = 1 for every 30 min), exchange Commodities, buy Special Weapons, change The weat...
Desert Operations screenshot: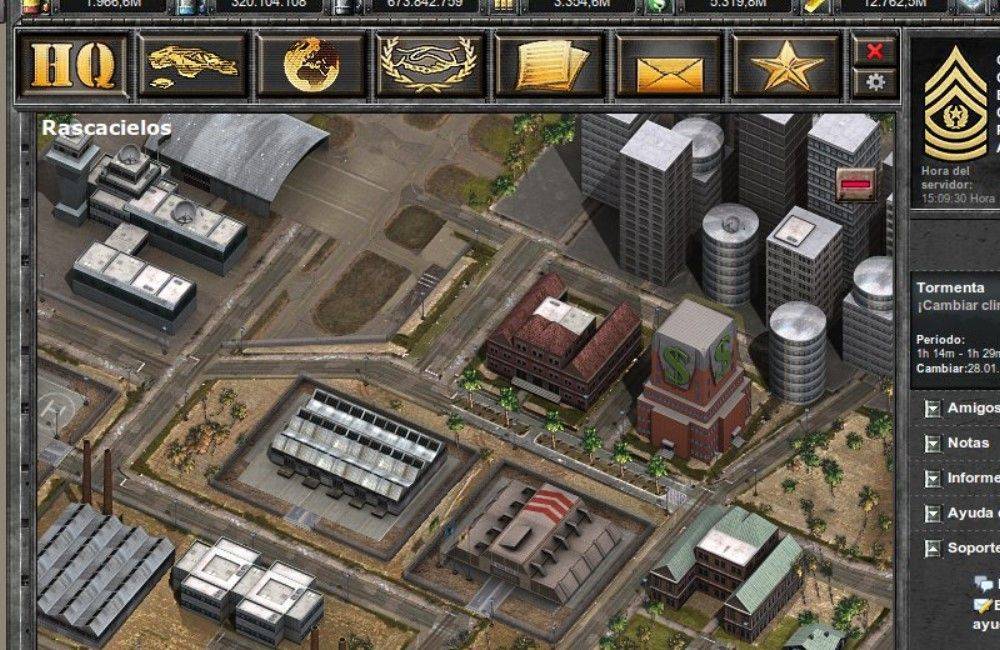 Big Farm
Game Genre: Farm Management Free to play MMO
Developed By: Goodgame
Platform: Web Browser
In this browser based free to play farm management game players take on the role of a fledgling farm owner, inheriting a farm from your Uncle George who hasn't had much luck in getting the farm off the ground. With advice from a few helpful characters and a little guidance along the way you will quickly raise this rundown farm into a successful and lucrative business as you manage every aspect of construction, production and expansion. The games' colourful graphics, simple user interface and casual gameplay will appeal to audiences young and old, from those who wish to pick up and play for a few hours to those who want to spend the evening tending to their chickens, growing their crops and chatting to new friends.
The main focus of the game is building up your farm and improving the various buildings and quality of produce that they can create, which in turn will make a more lucrative business and further help you to expand and ...
Big Farm screenshot: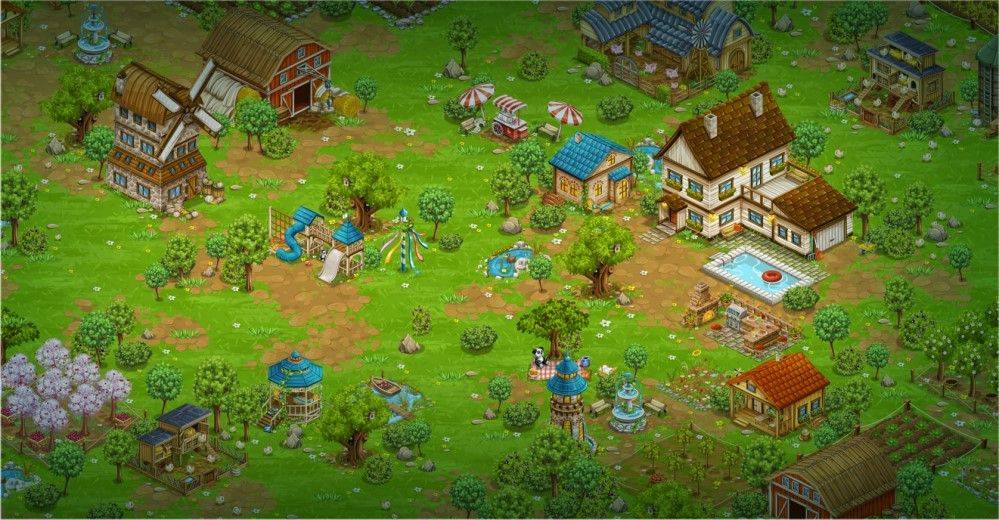 The endless expanse of the universe is the home of the probably most successful browser game of all times: OGame.
The players are galactic emperors building mines and factories on their home planets. They explore technologies to venture into distant galaxies.
With numerous other players – Ogame already has made more than 30 mio. avid fans world-wide – they compete against each other for supremacy of the universe: be it as a lonely merchant of raw materials or as a member of a martial alliance fighting battles of unlimited size. The interest in OGame is still unbroken even after five years. The game is a success in more than 30 countries all over the world and thus relies on a loyal player community without parallel. OGame has from the beginning banked on being playable free of charge and also included the ideas and requests of players that are discussing new extensions in their own ideas forum all the time.
...
Ogame screenshot:
Published by R2games, Crystal Saga is a free to play 2.5D browser based MMORPG set in the mystical fantasy world of Vidalia filled with winged creatures and fierce enemies, following the mysterious tale of the broken Crystal of Life. The game offers a vast virtual world, and is supported by a captivating and detailed storyline.
There are several features in Crystal Saga to keep you occupied. One of them is combat, and players have to face hordes of hostile monsters lurking in the dark and gloomy dungeons of Crystal Saga. If you feel the challenge is too difficult, you can always find a group and take down together the wild beasts and barbarians, gaining glory and equipment to aid your progress. Taming a slew of available pets, will also help you and your group in battle. The game offers a lot of options and features for pets. In addition to combat, players must also embark on numerous quests of all kinds, and to make it easy the Pathfinding feature will automatically direct the players to the quest location. These quests include d...
Crystal Saga screenshot: