BROWSER GAMES
Seas of Gold
Genre Type: F2P RPG MMO
Platform Accessibility: Web Browser
Development By: R2Games
In Seas of Gold you take to the high seas as the captain of your own ship, on a story driven adventure heading from island to island in search of fame and fortune. The game itself is accessible through your preferred web browser with no need for a client download, completely free to play players can spend cash on premium currency in the form of Diamonds if they wish, which allows them to upgrade their VIP level, buy various items from the diamonds only shop and a variety of other perks.
When starting out players can select their character from four available fledgling captains, in command of their starter ship the aim of the game is to build up both your skills, your ship, crew and your fleet of other captains. With each upgrade a player will become stronger which is shown by the value of their Power rating, a score that can be seen by other players, particularly useful when fighting in Arena PVP for rewards and rank position.
...
Seas of Gold screenshot: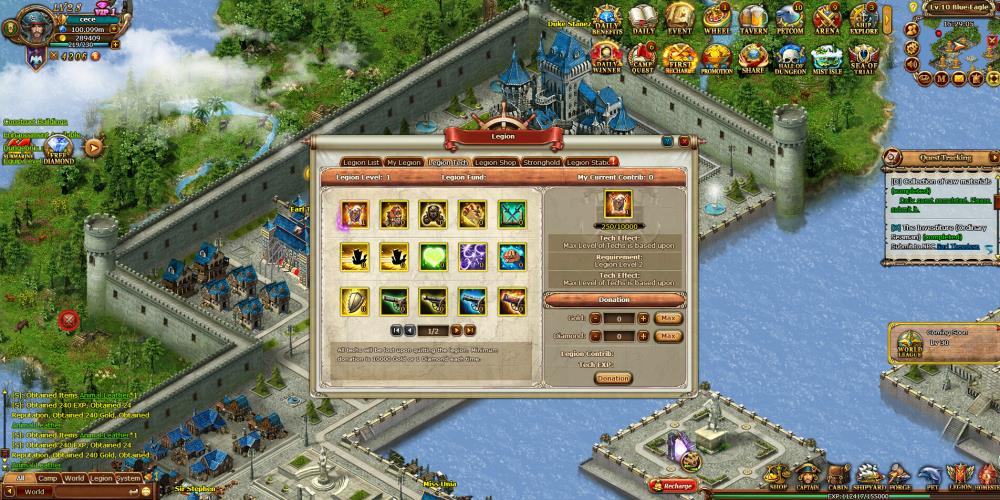 Tasty Tale
Category: Free-to-play Puzzle
Platform Compatibility: iOS and Android App, Web Browser (with Facebook)
Developer Studio: Sublinet
Tasty Tale is the fun and colourful match-3 puzzle game that allows players to create all manner of scrummy desserts for their famous fairy tale clientele. In the game players will see the likes of The Wicked Witch, Snow White and Pinocchio pass through their restaurant doors in search of a meal. With multiple game modes and Facebook compatibility players will have a great time in this free to play browser and app based game.
The basic setup of the game is a level-based progression where players will try to complete puzzles that grow increasingly more difficult as they gain XP from successful completions and level up, thereby accessing new Restaurants and meeting new famous fairy tale figures. Each level comes in the form of a 9x7 grid layout, filled with a variety of icons to represent different ingredients for the food that players have to make such as strawberries, wheat, chocolat...
Tasty Tale screenshot:
Skyrama
Genre Type: F2P Airport Manager MMO
Platform Accessibility: Web Browser
Development By: Bigpoint
Skyrama is a fast paced airport simulator where players are responsible for their own airport, tasked with constructing the various buildings required to run an advance the site as well as managing the arrivals and departures of the various international flights coming and going from your airport. The game is a free to play browser-based MMO that allows players to create their own quick account through the website or login using their Facebook accounts.
The key to advancement is acquiring AirCoins, the in game currency that players will earn through successfully accepting, servicing and departing flights on time as well as by completing various tasks and objectives that will pop up throughout the game. With AirCoins players are able to purchase a variety of buildings and place them down on their own private land, having full management over the layout of the airport itself. Each building has its own cost, level requireme...
SkyRama screenshot: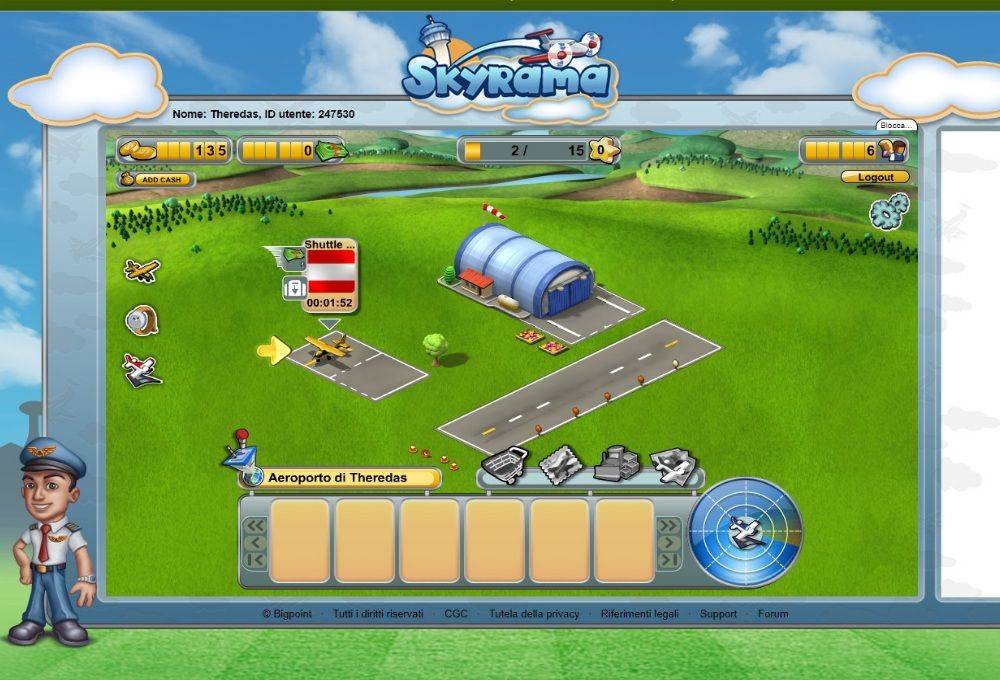 King of Towers
Genre Type: F2P MMO Tower Defense
Platform Accessibility: Web Browser
Development By: Shinezone
This fun and free to play browser-based tower defence MMO game takes a classic genre and adds a number of twists and extra features to create a well rounded out game where players can level up and unlock extra systems and abilities through gameplay to give them more options and customisation with their game. King of Towers is set in a fantasy realm and revolves around the struggle between the Kingdom and invading forces of the orcs after years of peace.
The game takes on traditional Tower Defence where players must construct towers by the side of a road that enemies will automatically travel long in the hopes of reaching the other end of the road to your territory. Enemies are summoned in waves, made up of different enemy types, and will simply walk to the other side of the map on the set route whilst a players' constructed Towers automatically attack them as they pass; the objective is to defend your territory fro...
King of Towers screenshot: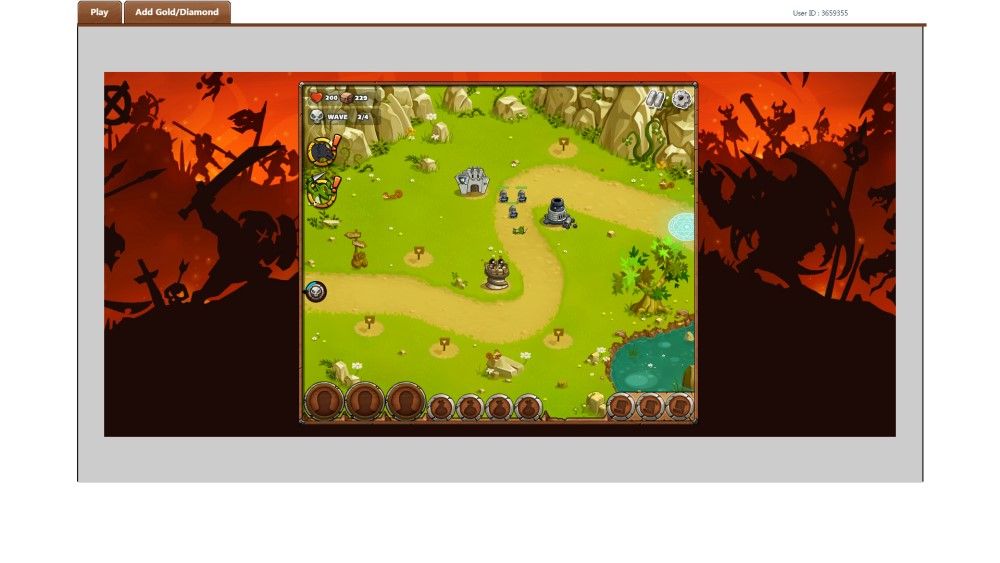 FantasyRama
Genre Type: F2P Farming MMO
Platform Accessibility: Web Browser
Development By: Bigpoint
Fantasyrama is a classic build, grow, harvest MMO where players are able to grow various plants and animals in their fantasy themed garden, gain XP to level up and unlock new features, acquire improved plants and animals and continue a cycle as they compete in a friendly way with other players to have the best garden in the game. This MMO can be accessed directly through your preferred web browser and has simple point and click controls making it suitable for adults and children alike, bolstered by its cute and colourful graphics and pleasant background music and theme it is a fun, family friendly game.
The core gameplay revolves around players enhancing and expanding their garden, starting out as plain grassland they will advance it with various flowerbeds, animal enclosures and aesthetic decorations. Using the Star Coins in game currency that is acquired through completing various actions as well as performing tasks and qu...
FantasyRama screenshot: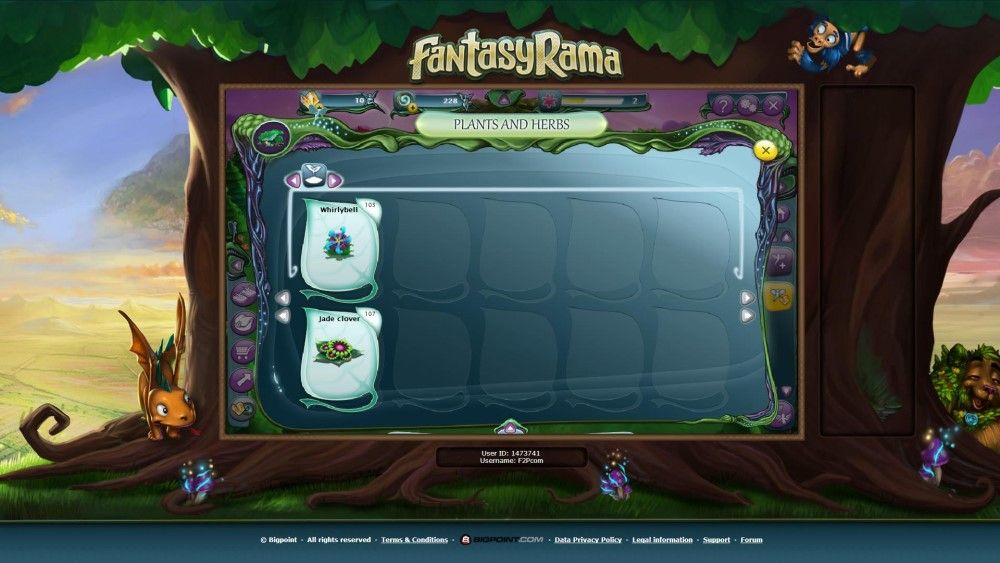 Rising Grave is a free-to play zombie browser game developed by S3 Pty Ltd. In Rising Grave YOU are the zombie in the state of Texas which has just had a massive outbreak of a deadly bacteria strain. Texas has been quarantined and there are still humans trapped that are managing to survive the hordes of zombies roaming the cities
In Rising Grave you can find a lot of tasks to complete. You will unlock new tasks progressing the game and levelling up your character. Tasks are your usual MMORPG's quest and will reward you with blood and experience upon completion.
The game comes with an extended skill system that will let you specialize in some area learning and improving useful skills like Ambushing, for stealing blood from other players, Scavenging that increases how often and the quality of items you can find, Rescuing that enables you to rescue other zombies from the humans' captivity, and many more, you always have something to improve your character and work towards.
The game is designed for both casual players and hardco...
Rising Grave screenshot: